THE EDUCATION PAGE


ACTIVISM and INFORMATION:
Education Reporter
Christian Parents Information Network
Exodus Mandate
Welcome to Kjos Ministries
Foundation for American Christian Education
American Association of Christian Schools
Learn
Grandfather Education Report
Concerned About Public Education
The Heartland Institute
The Heritage Foundation: "Choices In Education"
CSRnet-Christian School Resource Net (K-College)
Leadership U
C. S. Lewis Foundation
Accuracy In Academia
Education Policy Institute
The Leadership Institute
CSRnet-Christian School Resource Net (K-College)
Council for Christian Colleges and Universities
Net Ministries: List of Links: Christian Colleges and Universities
Campus-Watch
No Indoctrination.org
THE SHADOW UNIVERSITY: The Betrayal of Liberty on America's Campuses
Home School Legal Defense Association
Eagle Forum's Court Watch
ACLJ.org - American Center for Law & Justice
Liberty Counsel
Christian Legal Society
Christian Law Association
Southeastern Legal Foundation
Pacific Legal Foundation
Texas Justice Foundation
National Alliance Against Christian Discrimination
HOMESCHOOL:
AffordableCollegesOnline: "Online Christian Colleges - Faith & Technology"
Learn in Freedom!: Colleges That Admit Homeschoolers
Welcome to Oral Roberts University Homeschooling
Google Directory: Homeschooling: K-12: USA
Learn in Freedom!
Christian Home Educators Association of California
Christian Homeschoolers of Idaho State
California Homeschool Network
Home Crusaders
Homeschool World
Homeschool Central
Eagle's Nest Home for Wise Stewards: "Homeschool Freebies and Cheapies Link Page"
HomeSchoolingRadio.com
HOMEWORK HELPERS & GENERAL EDUCATION RESOURCE CENTER:
TeenPact.com
Conservapedia.com
ChristianAnthem.com: "THE CHRISTIAN ANTHEM" by Lee Behnken
NEWS@TRUTHUSA.COM: "News 24/7"
NCCS.net - National Center for Constitutional Studies (Hint: Play the online U.S.I.Q. Game)
TeacherHelp.org
Barb's Entourages: The Children's Playroom: "Study, Read, Learn and Play"
Jan Brett's Homepage
AlphaBites
DICTIONARY.com
My Virtual Reference Desk
Martindale's Reference Center
ScienceMinistries.org (Bioethics)
Institute for Creation Research
SeeTheGlory.com
NASA
Hubble Site
MOLECULAR EXPRESSIONS: Science, Optics and You
How Stuff Works
PublicDebt.Treas.Gov: "The Public Debt"
MIstupid.com: "Binary/Decimal Converter Calculator"
Fun Brain.com: Math Baseball
Conservative Education Forum: HISTORY Links
TravelPod..com: "The Traveler IQ Challenge"
David Rumsey Historical Map Collection
plasma.NationalGeographic.com:MapMachine
Barefoots World.net: "8th Grade Final Exam - Salina, Kansas, 1895"
Sheppard Software.com: "Hundreds of educational games, activities, quizzes, articles and more, for kids and everyone to use online -- and free!"
Association of Classical & Christian Schools
Christian Classics
Grapevine Publications
Bartleby.com
NCFA.org - National Christian Forensics & Communications Association
Virtualogy.com: Business Founders
Google Language Tools
Camp America
Abstinence Clearinghouse: "Safe Sex is a deadly game. Saved Sex until marriage is a healthy choice."
Project Reality

TAKE A BREAK at THE ENTERTAINMENT CENTER
FITNESS BLENDER Exercise Videos (Click Here.)
This page does not promote nor endorse violence. Should you find a link on this page that does, please e-mail me immediately. Thank you.
No dead links allowed! Found a dead link on this page? Please report it to truthusa@truthusa.com. Thank you.

Conservative Education Forum's "banner-mailbox Flag graphic" & "Capitol banner graphic" courtesy of A Tarheel's Reflections
Back to CONSERVATIVE EDUCATION FORUM: "The Conservative Internet Portal"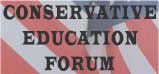 TRUTHUSA.com welcomes your e-mail! (NO spam, NO advertisements, NO e-mail lists, NO porn)
IMPORTANT NOTICE: TRUTHUSA.COM is my unique name/url for my web pages. TRUTHUSA.COM is a unique site and is not connected with any person, organization, discussion group or chat forum using a similar name (ie truthusa, truthusa.org, truthusa.net, etc.) TRUTHUSA.COM is on Twitter.
Please note that TRUTHUSA.com NEVER sends out spam and does not have a mailing list, and never participates in any discussion forum or chat forum (including Yahoo! and MSN) under the name "TRUTHUSA" or "TRUTHUSA.COM."
© 2001-2014 by truthusa.com. All Rights Reserved.